Units 15-16
Ford Lane Business Park
Ford Lane
BN18 0UZ
Hammond Concrete Resistivity Meter
For measuring concrete electrical resistance.
More info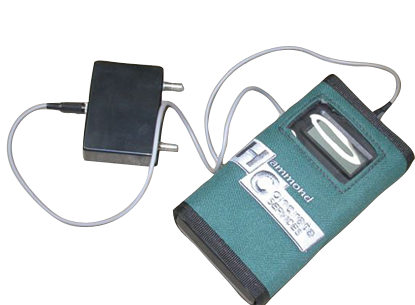 Hire or Buy Today! Call 01243 555 720
Features
The Hammond two-probe Resistivity Meter measures electrical resistance giving an indication as to the possible rate of embedded steel corrosion.
- Indicates possible corrosion rates of rebars
- Easy and quick to use, handheld & battery powered
- Fast (less than 2.5 minutes to test)
- Complete with 6.5mm drill bit, drill template for hole spacing, syringe, couplant gel and lead
Specification
Range: 5kΩcm (high) to 20kΩcm (insignificant)
Array spacing: 5cm
Gross weight: 2.65kg
Net weight: 1.65kg
Dimensions: 300(w) x 360(l) x 140(h)mm
Standards: ASTM D3633-77 and covered by TRL Ns9
Wenner 4-point Resistivity Meter
Hammond also provide the Proceq Resipod. This completely non-destructive apparatus requires no drilling as the probes sit upon the surface under test.
Quick to use, showerproof and robust for the demands of site use. AASHTO 38mm standard or 50mm probe spacing models are available.
Usage
How to use: Drill 2 x 6.5mm deep holes using the drill bit and template provided, inject couplant into the holes and take a reading using the probe.
How to read results:
(p = resistivity)
p ≥ 20kΩcm is low
10kΩcm > p < 20kΩcm is low/moderate
5kΩcm > p < 10kΩcm is high
p ≤ 5kΩcm is very high
If you have any further questions about how to read the results, email or phone us and we can help you out.